The vice president of R & D in Nutrition and Health of ADM Biopolis receives the only personal award of the NutraIngredients Awards 2019: "This is the first time that I receive an award from the industry, which satisfies me pleasantly".
The NutraChampion is the prize that the nutraceutical industry delivers annually to one of the most influential personalities in the sector. This year it has gone to the biotechnologist Daniel Ramón. With this award, NutraIngredients, the most important communication platform worldwide on nutrition, wanted to recognize "the outstanding contribution to the development of food science and biotechnology" of the Vice President of R & D in Nutrition and Health of ADM Biopolis, company installed in the University of Valencia Science Park.
After receiving the award, Daniel Ramón has acknowledged himself "very surprised" because "I received previously in my life some other prizes, but from academia. And this is the first time in my life I have received a prize from the industry. I am very very satisfied for that ". "I must also say," he added, "that I consider this award is not for me, but for the Biopolis team that works in Valencia. It is the union of the team that makes us move forward into the future".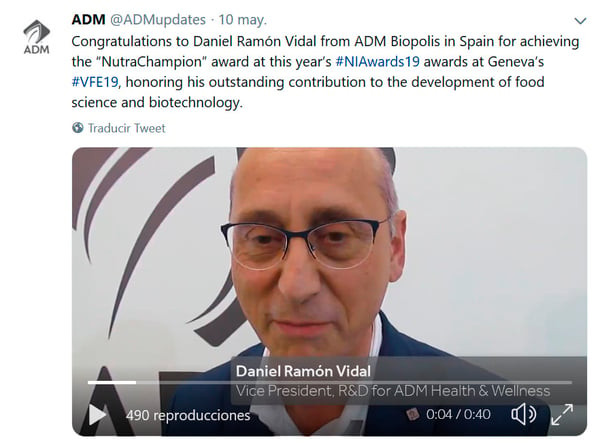 Daniel Ramón has revealed on the Twitter account of ADM Biopolis (@ADMupdates) that "this is the first time in my life I have received a prize from the industry"

In this edition of the NutraIngredients Awards ADM Biopolis has been the company in the sector that has received the most nominations. In addition to being a winner in the NutraChampion category, it has been a finalist in the 'Nutrition Research Project' category, where ADM Biopolis presented its combination of three probiotics to reduce the use of topical steroids in patients with atopic dermatitis, and in the 'Ingredient of the Year: Weight Management' category, where it concurred with the probiotic Bifidobacterium lactis BPL1.
A research and entrepreneurial career
Daniel Ramón is one of the founding members of ADM Biopolis, a biotechnology company born in 2003 as a spin-off of the Spanish National Research Council (CSIC) and it is installed in the University of Valencia Science Park since 2008. Its main objective was to transfer quality science to the agri-food, chemical and pharmaceutical industries. Two years ago 90% of the company was acquired by the American multinational Archer Daniels Midland, one of the largest agricultural processors and suppliers of food ingredients in the world.
The technological results of Daniel Ramón are protected by more than forty national and international patents, most of them transferred and in use. His research career has been recognized with the Prize of the Spanish Society of Microbiology, the Scientific Trajectory Award of Danone Institute, the European Prize for Scientific Dissemination, the Juan de la Cierva National Research Prize, the Hippocrates International Prize and the Medal of Promotion of the Invention of García Cabrerizo Foundation.