The company installed in the University of Valencia Science Park has been awarded with the second prize of the contest for startups organized by the five Valencian universities together with the Conselleria of Sustainable Economy, Productive Sectors, Commerce and Labor. SiCtech, Sabartech and TAU Analytics, also located in the PCUV, have been finalists.
Dawako is an emerging medical technology company that offers advanced solutions to bring portable and innovative biomedical technologies to the market. Its objective is to enable a new paradigm of dynamic bioimaging systems for medicine and precision sports performance. This is what Sergio García, co-founder and Product Manager, explained during his pitch elevator at the end of the 5UCV Startup contest, which was held in the framework of Focus Pyme and Entrepreneurship in the CEEI of Elche.
The jury of the VI edition of this contest for emerging companies, promoted by the Generalitat and the five public universities of the Comunitat Valenciana, has recognized them with the second prize in the STARTUP category. This implies the award of an economic prize of 5,000 euros.
"We are going to devote it entirely to the innovation and development phase in which we are inserted," said the CEO of the biotechnology company, Agustín Maciá. The head of Dawako has stressed "the support we have received at all times from the University of Valencia, specifically from UVemprén".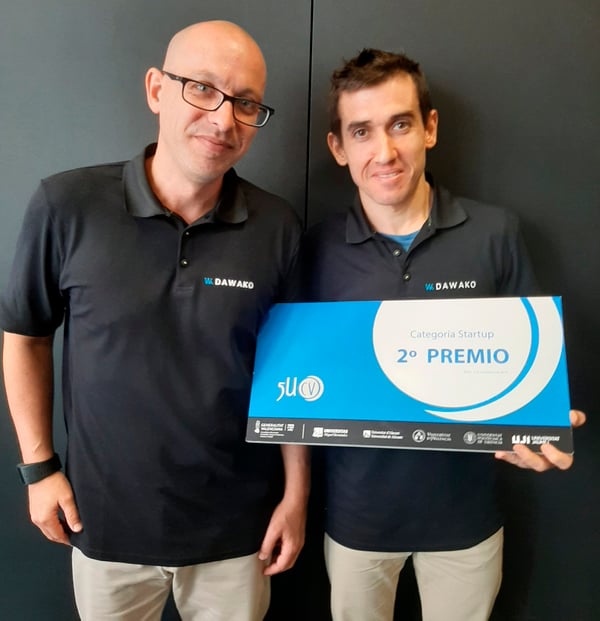 Agustín Maciá and Sergio García, co-founders of Dawako
The first prize in this category has been for the advanced services company NESPRA Smart Devices and the third for Bioferric Ink, a fast tattoo removal company. With regard to the JUNIOR category, in which five incipient business projects are awarded, two entrepreneurs graduated from the University of Valencia have won. This is Maria Claudia Rius, graduated in Pharmacy and responsible for a development project of state-of-the-art medical devices (Gaia Nexus), and Clara Guillem, graduated in Economics and CEO of Myliit, a clothing firm specialized in sizing for women of stature below market standards (usually 1.63).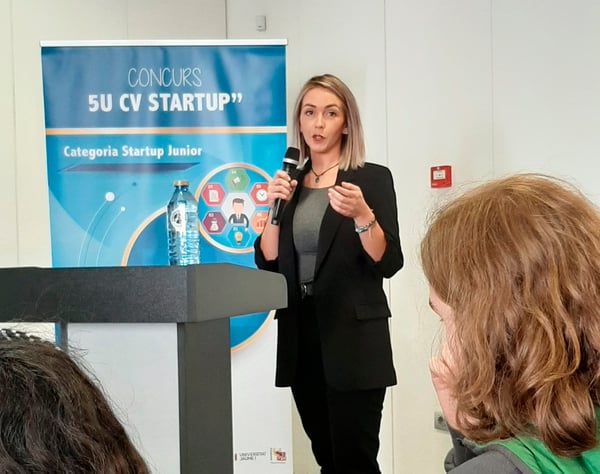 Victoria Fornes, CEO of TAU Analytics, during the defense of her business project
Finalist Companies
Three other companies installed in the University of Valencia Science Park have also arrived until the end of the contest. In the STARTUP category, SiCtech, a startup dedicated to the research, engineering, manufacturing and commercialization of advanced power converters, and Sabartech, specialized in the development of genetic tests, have defended their candidacy. In the JUNIOR category, TAU Analytics has been a finalist. Promoted by Victoria Fornés, this company provides support service for research processes, from advice for all types of study designs to advanced data analysis through using leading techniques.