"The use of lasers reduces by 99'5% the carbon footprint generated by the labeling of products with plastic in the environment", says the CEO of the company
The Valencian company Laser Food, installed in the Science Park of the University of Valencia, has registered in Europe the brand 'Natural Branding' to refer to the narural food labeling through laser marking, technology patented in 2007 with the University of Valencia.
"The new name better reflects the ecological benefits of the system. After numerous market studies to find a friendly concept with which to approach the consumer, we have observed that 'Natural Branding' has a very positive impact on aware people with the care of the environment", explains Jaime Sanfelix, CEO of the company.
Laser Food currently has 70 laser machines distributed especially in Europe (Denmark, Norway, Germany, Holland, France, Italy, Spain), Latin America (Mexico, Brazil, Chile), Africa (Morocco) and Asia (Israel, China, Hong Kong). In this progressive expansion, since 2014 it has the support of the American giant JBT Corporations, "which offers our customers a maintenance and assistance service through its logistics infrastructure in 34 countries around the world."
"The boost to our growth came with the commercialization of BIO products, whose consumers do demand a drastic reduction in the use of plastic," says Sanfelix, who stresses: "Currently, in supermarkets with a mixed offer, paradoxically organic vegetables and fruits must be packaged in boxes wrapped in plastic to avoid confusion."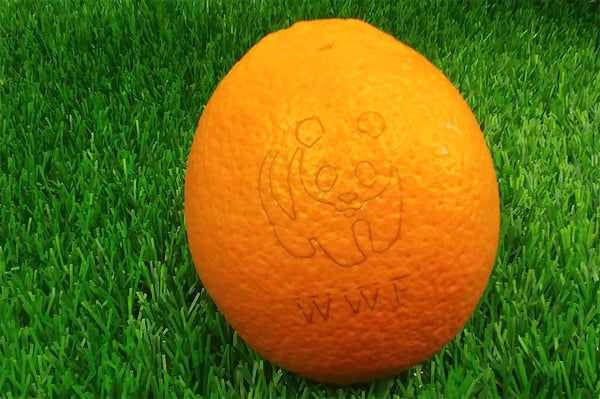 Orange labeled with Laser Food technology
The birth of laser marking
The development of this specific laser technology for inscription of any image, traceability code or logo on the surface of food dates back to 2007. With the aim of eliminating the traditional paper labels that are glued with adhesives, Laser Food and researchers of the Institute of Materials Science of the University of Valencia (ICMUV) came up with the necessary requirements and parameters to implement a viable, sustainable and profitable technology for the labeling, identification and traceability of food products.
In its journey to introduce technology in the market, the company invested 1.2 million euros through the European Program 'Laser Mark', awarded for the period 2010-2013. Among its achievements, we can mention the approval of the European Commission, "unanimously of all the member states", of the use of this technology in the continent.
In 12 years of work the company claims to have invested more than 5 million euros, "which we are now recapitalizing". "We have created something that is already history. We have created a sector that is now developing all over the world. The goal now is to popularize this viable technology," says Sanfelix.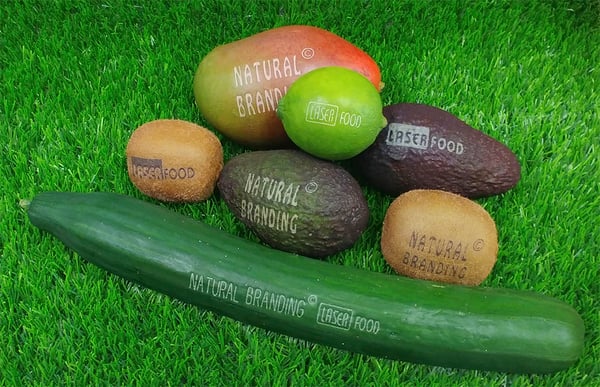 Fruits and vegetables labeled with Laser Food technology