The Würth EMC Chair, the first chair of the University of Valencia signed with a foreign company, has been recognized by the Consell Social awards as the best collaboration practice between the academic institution and society. In fact, the great success of this collaboration is the creation of the first Würth R & D center in Spain, located since November 2018 in the University of ValenciaScience Park.
Directed by the deputy director of the Escola Tecnica Superior d'Enginyeria (ETSE), José Torres, the chair was launched in 2015 with the aim of promoting training and research in smart electronic networks. The link with the company is Jorge Victoria, Senior Product Manager and head of the R & D center of Würth in Spain. "The opening of this office has been one of the great success of the chair. We competed against two other European centers and in the end the company opted for Valencia.In this difficult challenge has been very important the Science Park itself, since there is installed one of Würth's partners, Analog Devices", underlines Torres.

The head of the chair also stresses that "at this moment we have three industrial theses in development, we are designing prototypes that Würth exhibits at international fairs and four of our students have already been hired by the German company". The developer of electromagnetic compatibility products provides each year for this university education a minimum of 30,000 euros.
The chair also encourages conferences, conferences, seminars, workshops and international competitions at the facilities of the ETSE and with the participation of companies of the Valencian region interested in this field. In fact, one of the experts in microelectronics that today works in the headquarters of Würth in the Science Park is Sebastián Mirasol, student of the chair and member of the winning team of the First European University Design Contest. This is the first European challenge that the multinationals Würth Elektronik and Analog Devices, also installed in the PCUV, launched in 2018 between engineering students.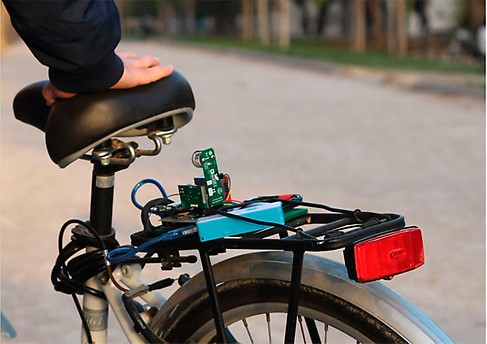 Device designed by students of the chair to map the pollution of the city
The team formed by Sebastián Mirasol, Adrián Suárez, Víctor Martínez and Gustavo Adolfo-Pérez, four ETSE' students, designed an electronic device that installed in means of transport aims to map pollution in cities. Adrián Suárez is now doing the doctoral thesis in the ETSE, while Víctor Martínez works in the German headquarters of Würth Elektronik.