Two of the companies, Darwin and UBE, are located in the University of Valencia Science Park. Darwin biotechnology has been assessed for its growth in turnover, staff, services offered and international customer portfolio. With the Company - University Collaboration Award, the Japanese chemical company UBE Corporation Europe has been awarded, which in the last three years has established R&D collaboration agreements with the University of Valencia, the Universitat Jaume I de Castelló and the University of Alicante for an amount in excess of 430,000 euros.
Darwin Bioprospecting Excellence, better known as Darwin, is an innovative SME established in April 2016. It was promoted by a team composed mostly of researchers from the University of Valencia and CSIC, specialists in microbial biotechnology, synthetic biology and evolutionary biology and with previous experience in the business field. Although its first line of business was focused on microbial bioprospecting, that is, the search for microorganisms with important applications in the food, pharmacological, cosmetic and energy industries, among others, today "we are in the midst of a commercial, scientific and technological expansion phase", assures its president Manel Porcar. "In 2018 we also implemented the genomic analysis service and in 2020 we have set up a medium scale production system that allows us to provide our customers with small freeze-dried batches of their selected strains", adds Cristina Vilanova, Scientific Director.
Among its innovative products, the development of probiotics for fish and the Masa Mater product line stand out, a dry and semi-instantaneous sourdough made from freeze-dried yeasts and bacteria, which makes it possible to make sourdough bread from one day to the next. "Masa Mater arises to avoid the process of routine maintenance of fresh sourdough, since it is as simple as opening an envelope, preparing the mixture, kneading, letting it ferment and baking," Porcar emphasizes.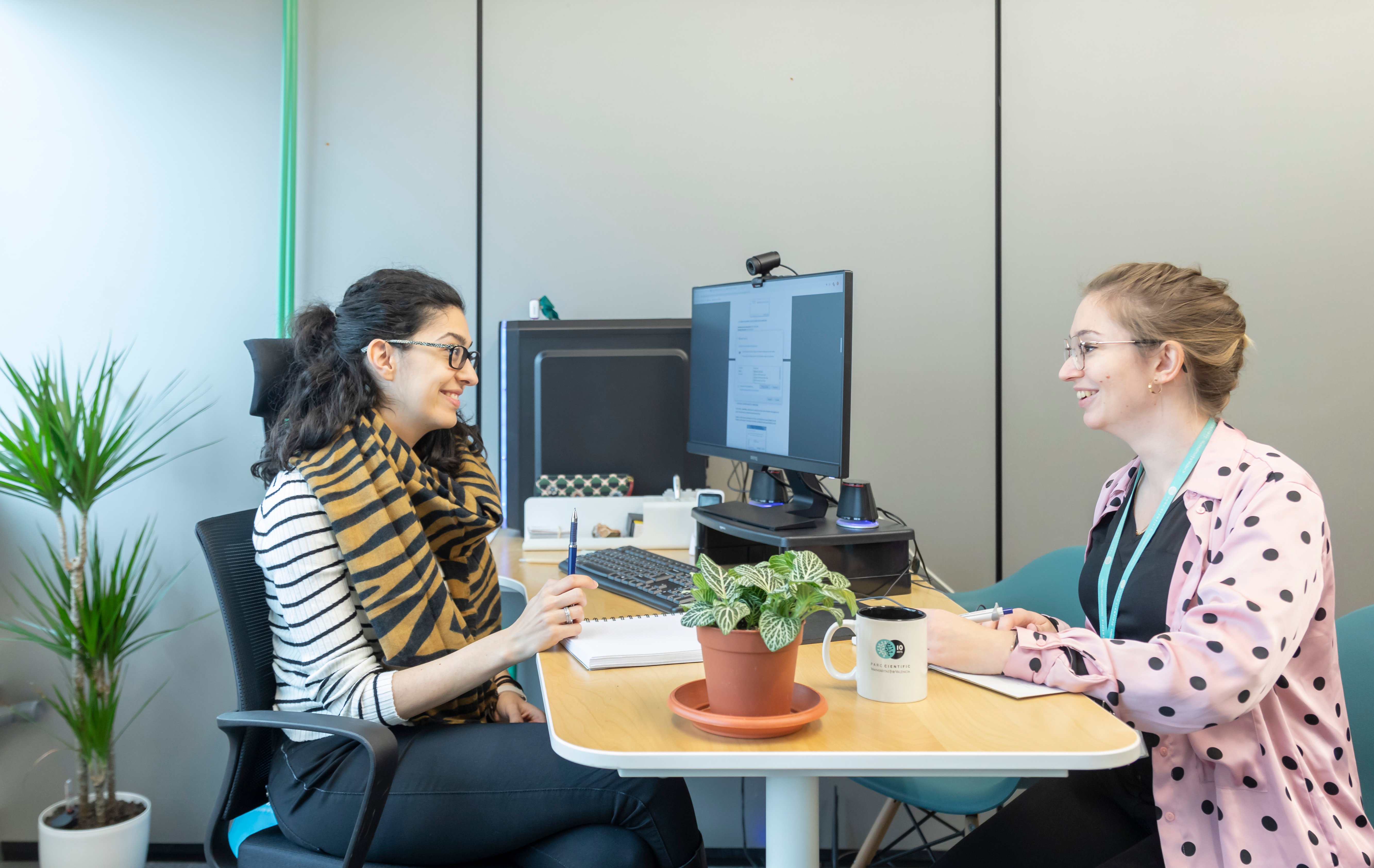 Cristina Vilanova, Scientific Director, and Kristie Tanner, Head of R&D Projects, Darwin Bioprospecting Excellence. Source: FPCUV
Darwin has experienced, from 2017 to 2019, an increase in its turnover of around 300%, "which has been due exclusively to the provision of R&D services to other companies or public centers," explains Kristie Tanner, head of Research and Development Projects. And this increase in income has allowed a greater hiring of personnel, increasing its staff in three years from 3 to 11 professionals. "We have also been committed to increasing our client portfolio in international markets. The percentage of sales outside Spain already reaches, on average, 17%," says Tanner.

For this "outstanding" growth, the rePCV Awards jury, made up of the heads of the five innovation ecosystems of the region's public universities, has decided to recognize Darwin Bioprospecting Excellence with the Startup Award. In this modality, it has also been valued with two runner-up prizes to the companies I-Care Reliability Spain, a company specialized in the maintenance digitalization process for industrial clients and linked to Espaitec, and WonderBits Coop.V., also specialized in the development of advanced software for the digitalization and automation of processes and installed in the Polytechnic City of Innovation.

The second category recognized by the Valencian Science Park Network Awards has been the Business-University Collaboration. This award has gone to Ube Corporation Europe, a company that has facilities in the University of Valencia Science Park and is virtually linked to Espaitec.
Collaboration with three universities
Belonging to the Japanese chemical group UBE, its R+D area has 30 professionals on staff and maintains collaboration agreements with the University of Valencia, the Universitat Jaume I of Castelló and the University of Alicante. Its lines of research are framed in the study of polyurethane systems, the search for new solutions for the functionalization of technical surfaces, the development of ceramic effect inks with new polymer additives and the development of new multilayer packaging solutions based on biodegradable polyamides, among others. "From 2017 to 2019, the collaboration agreements established with the three academic institutions exceed 430,000 euros", reported Andrés Nohales, head of R&D for Chemical Materials.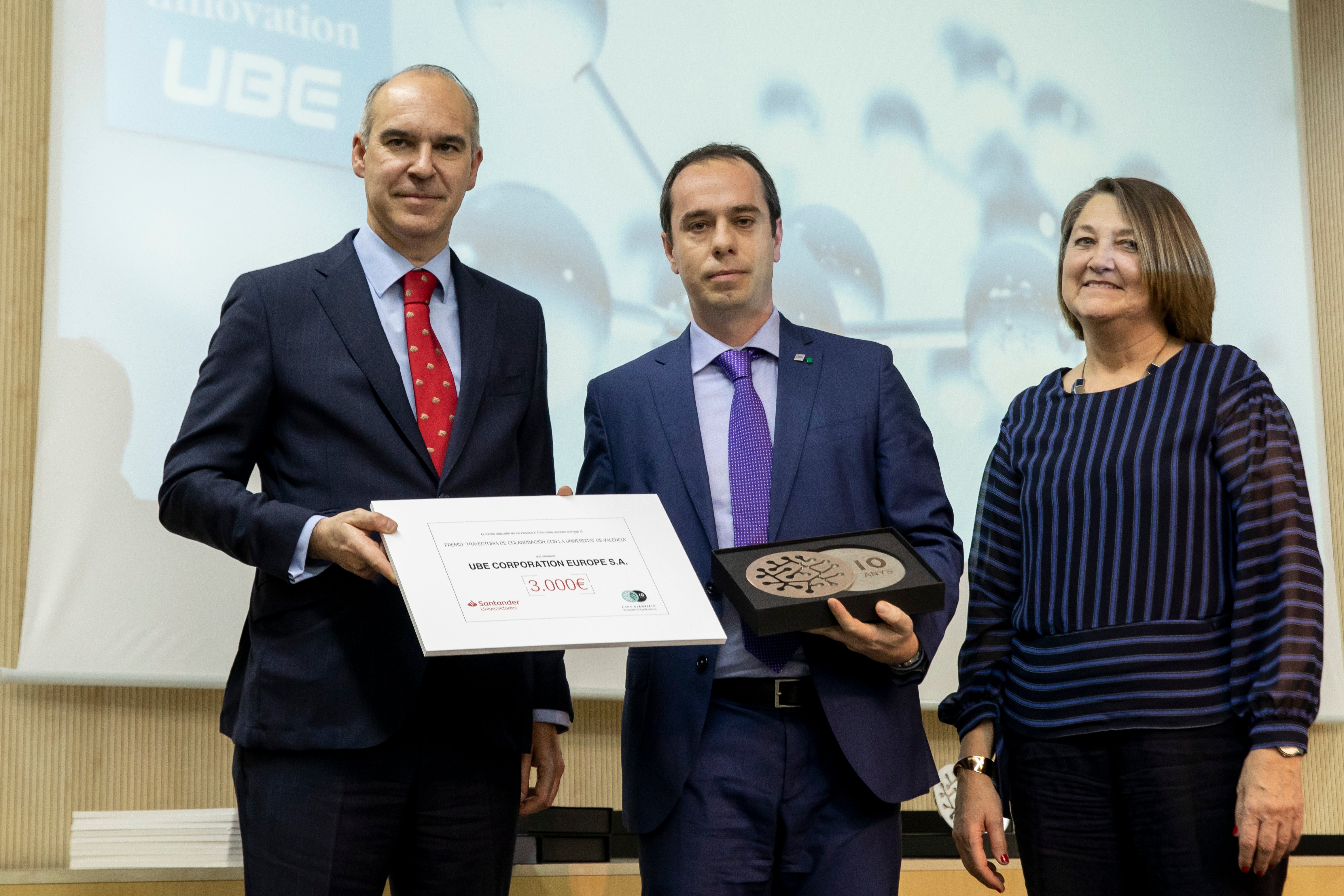 Andrés Nohales, from UBE, at the FPCUV X Anniversary Awards ceremony. Source: FPCUV
In this category they have also been recognized with second prizes Applynano Solutions, specialist in the development of solutions for the implementation of the use of nanomaterials in the industry and the development and synthesis of graphite oxide, located in the Science Park of Alicante; and SemanticBoots, which has developed a system based on artificial intelligence (chatbot) that facilitates access to the digital world for visually impaired people and is linked in Espaitec.

The third category of these awards, which recognizes the spin-offs located in the five parks, has awarded VLC Photonics, an engineering company specialized in developing solutions for different markets that use integrated photonics technology. "Similar to electronic integration, this technology allows the miniaturization of optical systems on a photonic microchip, where light is used to generate, process, transmit and detect information," explains Iñigo Artundo, its CEO.
Spin-off Award
The company, installed in the Polytechnic City of Innovation, has been constituted from the optical and quantum communications group -today known as the Photonics Research Lab- within the iTEAM research institute of the Polytechnic University of Valencia. The commercial activity has been internalized from the beginning and its percentage of sales abroad has been 97% in 2019. In the last three years its team has grown from 8 to 15 people and has consolidated its turnover around 750,000 euros per year.

The spin-offs Fent Innovative Software Solutions S.L. (fentISS), specialist in the development and marketing of systems software for critical applications for satellites and also located in the Polytechnic City of Innovation, and again Applynano Solutions, spinoff of the University of Alicante, have been recognized with two runner-ups in this category.